The metaverse gaming project Undercity will open the first act-to-earn village in Europe, bridging the virtual and real worlds.
Paris, France, 6th Feb 2023 – Undercity is opening a first-of-its-kind village dedicated to gamers, role players, and cosplayers in France. Spread over 10,000 meters square, the town will be everything an avid gamer hopes for. It will house a virtual reality room, atmosphere bar, streaming room, and retro-gaming room, to name just a few. 
In addition, the village is reproduced in the metaverse to allow access to people from around the world.
Where physical and virtual realities merge
The growth of the blockchain sector in the last few years has been impressive. The decentralized technology is penetrating a wide range of industries, from finance and gaming to health, education, and entertainment. That said, a closer look at the market reveals that blockchain use cases are largely limited to the online world. We see few Web3 applications in the physical world that we can touch and feel.
Undercity aims to change the way we have known blockchain, gaming, and the metaverse. In an unparalleled approach, it is building a decentralized gaming community that has a real-world footing.
The project is powered by a team of pioneers in real-life entertainment for gamers. It stems from the realization that playing online is not enough for most gamers. Powerful communities are built from social interactions in the real world.
"In life, there is a limit to what can be done. In video games, we enter a totally virtual world different from reality. Especially with VR headsets (virtual reality), we feel that we are in another universe. Video games can also develop relationships of friendship. For example, in the majority of games, we have a list of friends with whom we can play and have fun. With Undercity you are connected to members," says Jonathan Noiray, co-founder of Undercity.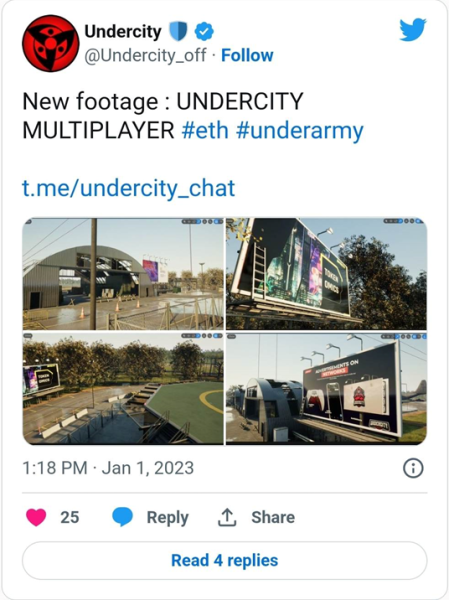 A glimpse into the act-to-earn village 
To say Undercity act-to-earn village is a hub for gaming enthusiasts will be an understatement. It will be a dream come true for everyone who loves games and gaming.
Virtual reality room: A place where you can immerse yourself in your favorite gaming universe with friends, family, or colleagues. It offers a long catalog of games and experiences. 
Streaming room: Four rooms equipped with live-specific PCs, green screens, and stream decks. You can share your content and interact with your Twitch community here. 
The throw of axes: A perfect stress-breaker after a long week. It features 6 targets, allowing up to 18 people in each one-hour session (up to 35 people in privatization). It will be an ideal activity for a birthday party, outdoor team sessions when hanging out with friends, and even a date. 
Massage: Who wouldn't like a relaxing massage after hours of sitting in front of the gaming screen? The Undercity village hosts well-being massages for non-therapeutic purposes.
Cyberpunk spa and sauna: A Nordic bath at Undercity spa institutes lets you forget the worries and stress of everyday life. 
Fantasy Manga library: A perfect moment of escape in the heart of the village. Read Manga and heroic fantasy books in the reading spaces and get lost in solitary pleasure. 
Retrogaming hall: Discover old games and old consoles, whether out of curiosity, to see them running, or to play them and test them. Undercity also hosts local tournaments and competitions based on retro games. The game hall has free access. 
Modern gaming hall: A dream game room with free access to new generation consoles like PS5, XBOX SERIES X, and SWITCH. 
Atypical accommodation: A range of modern and spacious teepees that are warm in the winter and cool in the summer. Apart from cozy and comfortable beds, they have furnished terraces where you can spend long hours in the open air.
Snack bar: Drink pints and cocktails, meet friends, and sleep on the spot.
The passion project is building a hybrid village that has its physical roots in The Creuse. It is the ideal destination for the project for many reasons.
To begin with, the medieval site of The Bridiers is only two minutes from the craft site, giving it the right setting. The underground village is nine minutes away by car, close to the N145 interchange linking the A20, and a 20-minute walk away from the train station. Moreover, 8GB/SEC FIBER is available in the location, which is integral to hosting a hybrid metaverse experience. 
Undercity introduces the first shooter metaverse
Undercity is building a VR role-play shooter metaverse that features modern multiplayer FPS games, weapons, characters, projectiles, shells, explosions, game modes, and more. The demo of the game published on the website looks promising. 
In addition, Undercity is home to the Underverse, which is a unique "open world" in 3D, where the web3 community can meet to build relationships and have unlimited fun. It will be powered by the native token UND, which allows users to create an entire web3 digital ecosystem.
UND tokens will be up for presale in February 2023
As mentioned above, UND is the native token of the Undercity ecosystem. It is used as an entrance fee to Undercity (only once), get atypical accommodation rentals (long and short term), play premium games, and make in-app purchases. When you pay for Undercity activities with UND tokens, you get a 5% discount on the price. You can also use it to pay in shops, restaurants, and bars in the village. 
Privatization of the place is done using UND tokens as well. For example, you can use it to organize events or host subscriber meetings. The project will use the token to remunerate developers, creators, and actors of Undercity. What's more? You can rent 24-hour hosting servers, game servers, and gaming setups. 
The presale of UND tokens will begin in February 2023, held in 5 stages. A total of 57,000,000 (50%) UND will be up for sale. The high market relevance and real-world footing of the project make it one of the best crypto metaverses to look forward to this year. 
Media Contact
Organization: Undercity
Contact Person: Vhanaseng
Email: [email protected]
Website: https://www.undercity.fr/
City: Paris
Country: France
Release Id: 0602232406
The post Undercity will open the first Act-to-Earn village in Europe appeared first on King Newswire.