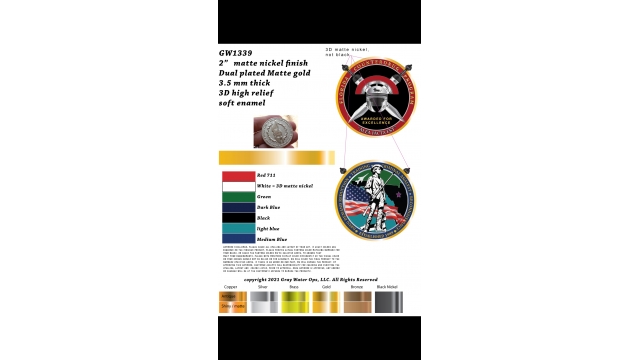 Gray Water Ops has expanded its custom merchandise service to accommodate influencers by offering bulk orders on all challenge coin products. These coins are ideal for those looking to promote their online presence, as they can carry URL data and other digital information in the embedded NFC chip.
To learn more, visit https://www.graywaterops.com/nfcchallengecoins
This update to the company's services will allow those with an online presence to custom order challenge coins in a variety of shapes and materials, though all feature the proprietary Gray Water Ops NFC chip technology. This patented technology is embedded seamlessly within the coin and can transmit data to NFC receivers, such as those found in most modern smartphones.
Gray Water Ops now offers bulk orders as the season for creator-driven conventions starts to ramp up. They provide challenge coins as a way for creators to promote their brand and content in a way that is both more memorable and unique than a traditional business card or leaflet.
The NFC integrations can also be used to link to exclusive digital assets or websites, as well as establish the creation of loyalty programs or member-only online spaces. For example, digital creators could create a digital art piece that is only accessible to those who hold these challenge coins and who access the URL through the integrated chip.
Their challenge coins are housed in solid brass and can be laser engraved or inlaid with enamel or a number of different metals. Each coin is hand-crafted with care by the Gray Water Ops design team, ensuring a long-lasting finish and high-quality design.
Their design team can also create challenge coins based on customer requests, maintaining an open line of communication throughout the process to ensure customer satisfaction. Their team has helped hundreds of customers translate their ideas into tangible products, including designs for businesses, military regiments, and public service organizations.
About Gray Water Ops
Gray Water Ops is also entirely veteran-owned and operated, with 50% of fundraiser sales going toward a number of different charities promoting veterans' health and well-being. More information regarding Gray Water Ops' charitable contributions is available on their website.
Additional details can be found at https://www.graywaterops.com/nfcchallengecoins
Gray Water Ops, LLC
[email protected]
+1-717-412-1402
5825 Tyler Dr
United States
COMTEX_423449244/2764/2023-01-28T23:06:35